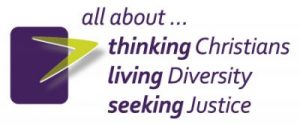 Pine Valley Christian Church was founded in 1968 as, and continues to be, an alternative to traditional church. We have a rich history of social activism and progressive theology. We acknowledge that many people today have a problem with religion and "traditional" church. We offer forward-thinking Christianity for the 21st century.
We are all about …
thinking Christians      Romans 12: 1-3
This is a safe place to question traditional church teachings and to figure out what you believe. We enjoy the challenge of emerging theologies and frequently enter into dialogue with Christian and non-Christian religious leaders, and subject-matter experts involving community and world-wide issues and needs, such as race issues, human trafficking, housing for low income families and refugee/immigration issues, to name a few.
living Diversity        1 Corinthians 12: 4-11
ALL means ALL period! We live in respectful presence of those who are different from ourselves, following Jesus' example of welcoming everyone, regardless of race, national origin, social or financial status, gender, age, sexual orientation or anything else. We are an Open & Affirming Christian Church.
ALL are Valued
ALL are Gifted
ALL are Accepted
ALL are Handcrafted
ALL are Loved
ALL are Chosen
seeking Justice       Amos 5: 21-24
From our inception seeking justice has been our goal. This has changed over the years, as important issues arose:
We were the first in Wichita to open an interracial childcare center in 1969.
We have championed equal rights for our LGBTQ community since 1978.
We have sponsored numerous refugee families.
We housed the Annoor Islamic School from 1997 to 2000 while they built their own building.
We were one of the churches that performed weddings on the Courthouse steps when Marriage Equality was passed.
In 2018 we spearheaded a camp for LGBTQ youth called Camp Sunflower, partnering with other churches and organizations.